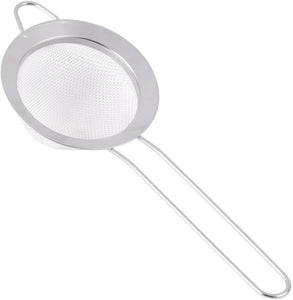 Cocktail-Powdered Sugar Strainer, Stainless Steel 3"diameter
Regular price
$2.99
$0.00
Unit price
per
This stainless-steel strainer has a 3" diameter and a slim looped handle for an easy grip. The fine mess allows you to strain out pulp and other small food articles quickly and efficiently. The smaller design is great for cocktail prep as well as dusting flour and powdered sugar evenly. The second smaller loop on the opposite side of the handle lets you balance the strainer over the bowl you are working with. The looped handle also allows for easy hanging storage.
Diameter: 3 Inches.
Material: Stainless steel.
Type: Mesh Strainer.
Ideal for making fruity cocktails.
---