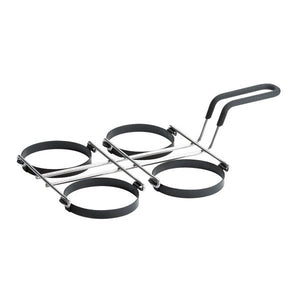 Tablecraft Four 4" Black Non-Stick Egg Rings with Handle
Regular price
$18.99
$0.00
Unit price
per
The Tablecraft 1240 4" non-stick egg ring four ring mold with handle will help you achieve more consistent results with less waste! You'll use your grill space more efficiently and also make perfect individual portions for egg sandwiches or omelets, and keep fried eggs from running all over your grill. The Tablecraft 1240 egg ring set cooks up to four perfectly round fried eggs at a time!
This egg ring mold has a non-stick coating for easy egg release and reduced waste. Ideal for cooking eggs on any sized grill, this egg ring ensures you'll achieve perfectly round and fluffy eggs every time! Cooking in a small, contained mold also keeps raw foods and potential allergens from sullying your eggs. This ring set will allow for efficiency and organization in your work area, preventing both cross-contamination and unnecessary cleanup. It is best used when your pan and oil are hot to help cook the egg and ensure the egg doesn't leak out under the egg ring. Simply heat the egg ring to prevent the egg from sticking to the ring. Whether they're on bagels, biscuits, or English muffins, eggs made from this ring will provide a professional, finished appearance to all of your culinary creations and its cool-touch wire handle makes maneuvering it a breeze!
Overall Dimensions:

Length: 15 1/2"
Width: 10"
Height: 6 1/2"
Compartment Diameter: 4"
Compartment Height: 5/8"
---