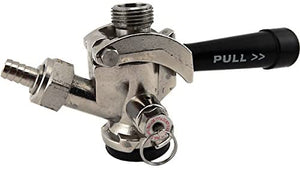 Economy US Sankey Keg Coupler - D System
Regular price
$45.95
$0.00
Unit price
per
This D system US Sankey keg coupler is designed to tap the vast majority of domestic beer kegs in the United States and Canada.
The coupler, or keg tap, plays a very important role of connecting your keg, CO2 tank, and beer line. When you operate the black plastic lever, pressurized gas enters the keg, which then pushes your beer up through the beer line toward the faucet for pouring. 
Designed for the US Sankey (D System) keg valve, this coupler fits the vast majority of North American beers, including Budweiser, Miller, Coors, Molson, Labatt, Sam Adams, and many more. If you don't have the right coupler to match your beer keg, you won't be able to pour out a drop.
It features durable hard nickel plating and a sturdy white lever-style handle that's easy to use. An internal safety relief device prevents dangerous pressure build-up that can damage your system.
Grab this affordable but reliable coupler and ensure your system is pouring just right for just about any beer brewed in North America.
---