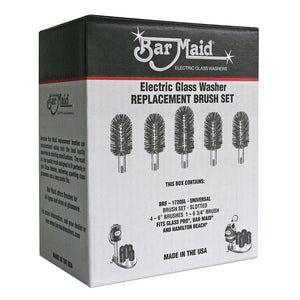 Bar Maid Glass Washer Universal Replacement Slotted Brush Set, 5 Pc.
Regular price
$56.99
$0.00
Unit price
per
The Bar Maid BRS-1720SL glass washer replacement brush set helps bartenders keep their glassware clean. To clean the outside of the glass, this set includes four 6-inch brushes while one 63⁄4-inch brush cleans the inside. While this set works with many brands of glass washers, it isn't compatible with units from Waring.
Product Details
Fits any brand of glass washer except Waring
Includes (4) 6-in. brushes and (1) 63⁄4-in. brush
Made in the U.S.A.
Glass Washer Universal Replacement Slotted Brush Set, (4) 6" & (1) 6-3/4", fits all brands except Waring®, Made in USA
---